中村 亮 / Akira Nakamura(Drums)
小波本正 / Tadashi Kohamoto(Sax)
高尾英樹 / Hideki Takao(Bass)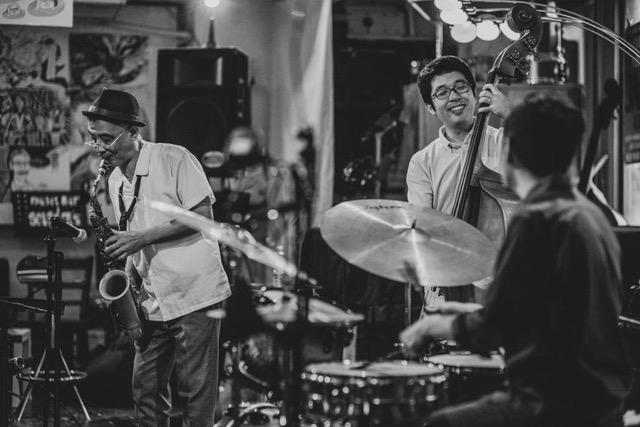 Formed in Okinawa in January 2020. Based in Okinawa, this jazz trio performs original music ranging from swing to funk.
【中村 亮 / Akira Nakamura (Drums)】
Drummer/composer from Okinawa.
After graduating from Berklee College of Music in 2001, he worked as a freelance drummer in the U.S. He has been active as a drummer for David Fiucyzinski (screaming headless torsos, Hiromi Uehara) and the Sam Kininger Band (soulive, Lettuce).
He has been based in Tokyo since 2009, and has performed as a support for Hanaregumi, Monday Michiru, etc. in parallel with his own band activities.
After living in Germany, currently resides in Okinawa.
<Past Performers>
David Fiucyzinski, Hiromi Uehara, Sam Kininger, Angelo Moore (fishbone), Monday Michiru, BigYuki, Hanaregumi, Sarah Olean, Ai Kuwahara, Yu Sakai, Naoto Inti Raymi.
【小波本正 / Tadashi Kohamoto (Sax)】
Born in 1964. Started playing saxophone at the age of 12. Studied under Akira Omori.
In 1990s, moved to Paris and London and worked as a street musician.
After returning to Japan, he joined Fumio Yara Band and Hidefumi Kamura Band, and performed with jazz band "element of the moment" at many music festivals in and outside of Okinawa. Currently, he presides over "Tadashi Kohamoto PROJECTS" centering on "Ryukyu Chimdon Band". He continues his activities in Japan and overseas.
【高尾英樹 / Hideki Takao(Bass)】
He started playing the tuba in junior high school, and picked up the wood bass when he was in college after encountering jazz.
He has been performing mainly as live support and recording for Okinawan artists, as well as at jazz live houses and events.
As "element of the moment," he has performed at various live events such as Taipei International Jazz Festival, Kanazawa Jazz Street, and Jazz in NANJO,Okinawa.
He has toured the U.S.A., China, and Taiwan with the Ryukyu Chim Dong Band. Performed at Yuka Takara's Broadway Night. He has been energetically performing at jazz live concerts in Korea.