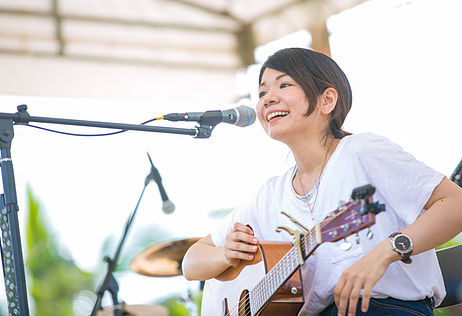 Born in Ishigaki Island, singer-songwriter.
Attended piano lessons from an early age. Started playing guitar in junior high school under the influence of his older brother. Started writing songs at the same time.
Moved to Tokyo in 2005 to pursue higher education. Performed live mainly in the Kanto area. Later studied design and art in England for a year.
In 2011, he moved his base of activities to Okinawa. After playing in various bands, he switched to a solo career again. While performing at live shows and events throughout Okinawa, he apprenticed himself to the Yasumasa Miyara Institute and began learning Yaeyama Min'yo.
In 2014, she won the Yaeyama Classical Performing Arts Competition Newcomer Award.
In 2015, he changed his solo name from Tida to tidanomiyuki. She released her first solo album "Waltz for Stew". Held a live concert at Tedako Small Hall in Urasoe City to celebrate the CD release. Started performing outside of the prefecture.
Started regular live "Starry night" in 2016. Live concert "Starry Night" was held on the rooftop of IDA International Design Academy. Received an award for excellence in the Yaeyama Classical Performing Arts Competition. Released new singles "loves" and "Farewell Road" for limited distribution. Performed at Zandari music festival in Korea for the first time. tida" was featured in a promotional movie for Okinawa products (from 2016). TANZAKU" was featured in a movie commemorating the 45th anniversary of the Itoman City government (November). Hand Tataku" was featured in Motobu Wellness Foods Okinawa Shikwasa TV commercial and radio commercial (December-).
In 2017, the song "tida" was included in the compilation CD "Music from Okinawa". Performed for the first time at the Playtime Festival, a music festival in Mongolia.
Released their second album "Now and Then" in February 2018.
In August 2020, he started "Home Starry night", an irregular video streaming service on YouTube.