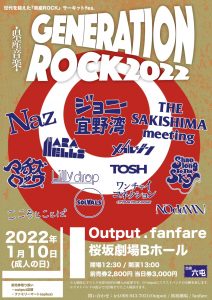 [Lineup] Naz / Johnny Ginowan / THE SAKISHIMA meeting / HARAHELLS / Maltese Rock / WanChai Connection / TOSH / Shaolong to the Sky / Mekarujin / SOLVALS / Lilly drop / Kokoro to Kotoba / Nodamn
Food: Rotton
Due to the COVID-19 pandemic, the entertainment scene in Okinawa has been halted for nearly 2 years. Artists, concert venues, and all people involved in the industry have been negatively affected in various ways.
To make a fresh start in January 2022, a circuit style music festival will be held in Naha city at Output, Sakurazaka Theater and Fanfare.
This will be a great opportunity to see the best performances of Okinawan artists of all ages like Naz, Johnny Ginowan, THE SAKISHIMA meeting, TOSH, and more. Be the witness of the high-quality performances and feel the energy of "Okinawan rock."
Date: January 10, 2022 (National holiday)
Venues: Output / Sakurazaka Theater Hall B / Fanfare
Time: Open at 12:30 / Start at 13:00
Ticket price:     Early bird ticket: 2,800 yen
Same-day ticket: 3,000 yen
(500 yen will be additionally charged for a drink)
Enter all 3 venues with the event entry wristband.
Tickets can be exchanged with the event entry wristband at Output.
Early bird tickets are handled by eplus
Contact information: Output 098-943-7031