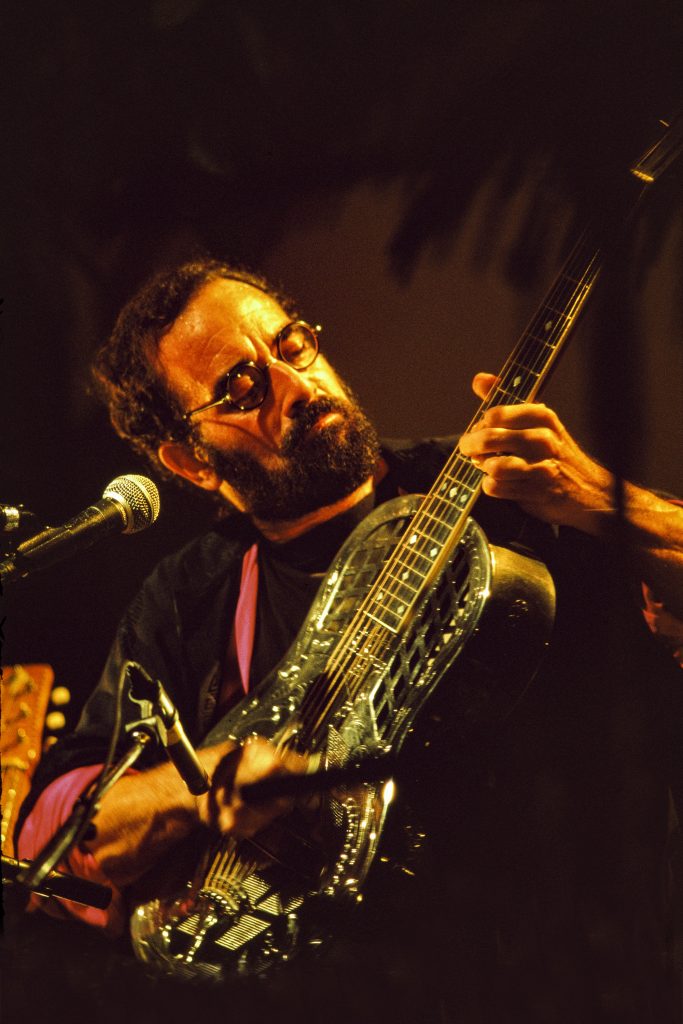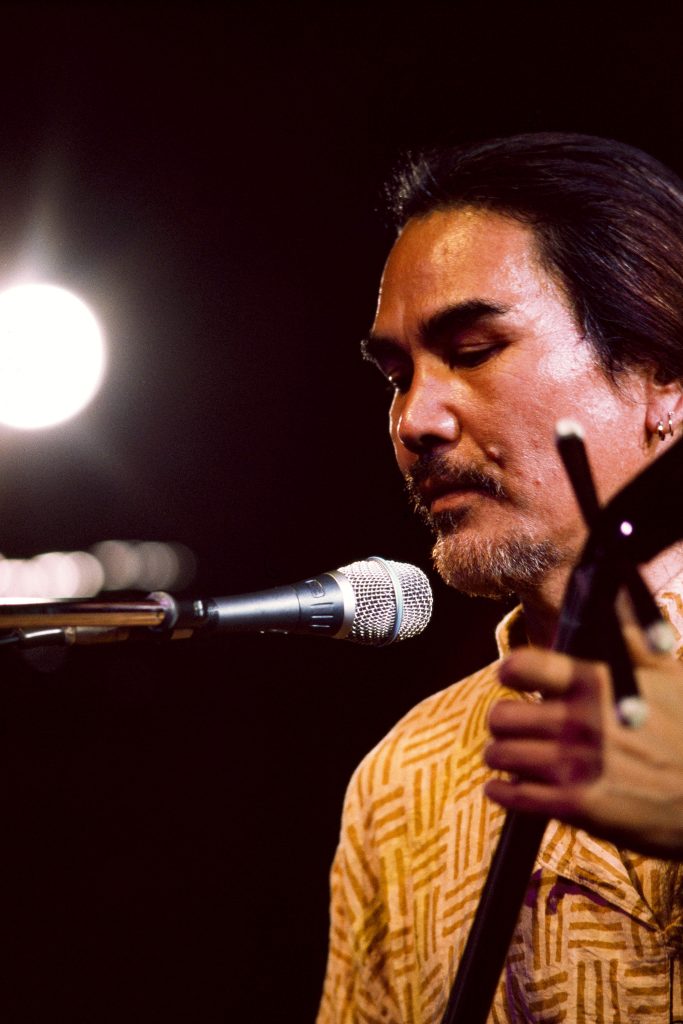 A miraculous live recording from 22 years ago.
With this album, many people will discover the appeal of Okinawan music.
Takashi Hirayasu & Bob Brozman's album "Mo-Ashibi Magic – Live in Tokyo 1999" (Respect Records) has been released.
(The background of the release can be found on the label's official website.)
Takashi Hirayasu grew up in Koza city and has been active in the Okinawan music scene since the 1970s, recording for "Marufuku Records" artists such as "Four Sisters" and "Deigo Musume" under Tsuneo Fukuhara, and as a guitarist and sanshin player for Shokichi Kina & the Champloose.
Bob Brozman is a New York-born bluesman who has worked with musicians from all over the world and has released many albums in genres such as blues, gypsy swing, calypso, rag time, and Hawaiian.
Hirayasu and Brozman recorded the album "Warabi Uta" in 1998 at an old house on Taketomi Island in the Yaeyama Islands, Okinawa.
This live recording album was held in Tokyo as part of "Warabi Uta"'s release tour.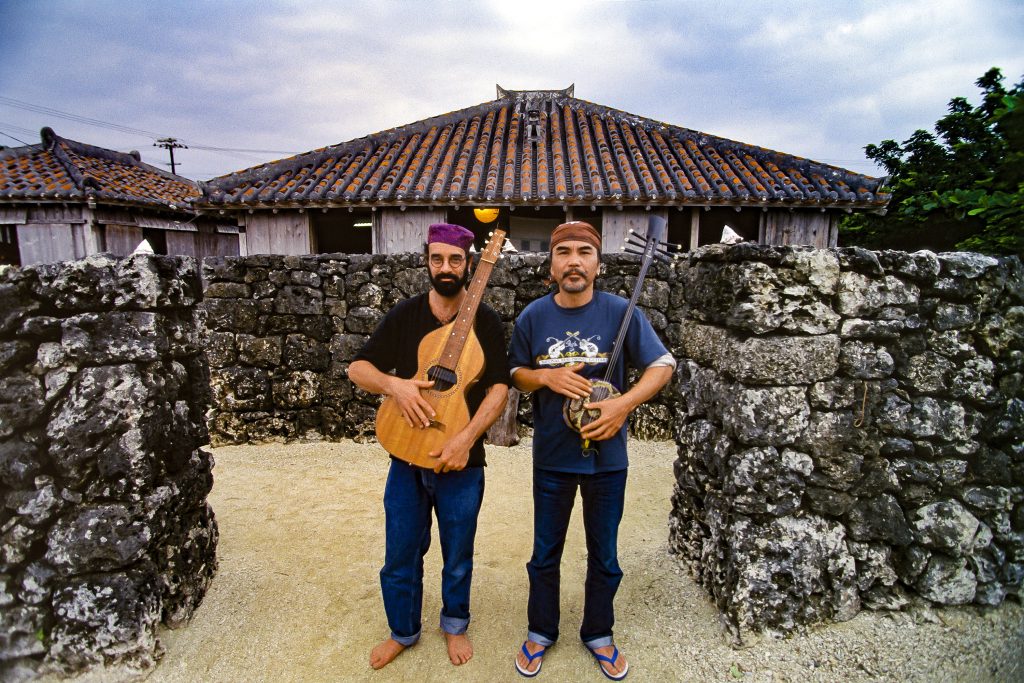 Taketomi island, 1998
Before Takashi Hirayasu started his solo career, I remember doing a few events with him in an empty space on Kokusai-street,Naha-city,Okinawa. The venue was some kind of garage of someone's store, and I didn't even know that Hirayasu was the guitarist of Shokichi Kina & the Champloose. It was a small gathering, and I'm sure the sound equipment wasn't up to snuff, but Hirayasu was very careful in creating his sound, and his sincere approach to the music is still burned into my memory.
I heard that Bob Brozman is a man who has traveled through a diverse range of world music. It's clear from his album "Warabi Uta" and this live recording that Okinawan music appealed to his ears. Jeffrey Keiser, a jazz pianist who has released an album with Okinawan traditional music singer Yasukatsu Oshima, was also fascinated by Okinawan music.
One time, when I went to a Bjork concert, the background music before the show was Okinawan music by Tsuneo Fukuhara. It seemed strange that "Hey Niseta!" was played at the Nippon Budokan as we waited for Bjork to appear. I don't think it's a coincidence that foreign artists who know music well are more deeply fascinated by the appeal of Okinawan music.
Since 2014-2018, I attended WOMEX, a world music expo that has been held in European cities. When I told people "I was from Okinawa", many people in the music industry proudly said they knew Takashi Hirayasu. Many of them had heard their perform at the WOMEX showcase in Rotterdam, the Netherlands, in 2001.
They seemed to be looking for something in the Okinawan music that we came to deliver, similar to the music that they once spun. The music of Takashi Hirayasu and Bob Brozman is still synonymous with Okinawan music in the European world music scene, and I realized that it has such a big presence.
The Naha show of the release tour of the album "Warabi Uta" was held at small club, and I was involved as the organizer. We probably went to the launch party together, but I don't know what we talked about.
I hope that the release of "Mo-Ashibi Magic – Live in Tokyo 1999" by Takashi Hirayasu and Bob Blossman will help as many people as possible to discover their music and the beauty of Okinawan music.
Bob Brozman passed away in 2013. Takashi Heian continues his solo career, and his latest album is released on a Taiwanese label.
(Ryuji Noda)
Takashi Hirayasu & Bob Brozman
「Mo-Ashibi Magic – Live in Tokyo 1999 -」
2CD set / 60-page booklet enclosed / 3,520JPY
Recorded at Restaurant Bar CAY in Aoyama, Tokyo on September 15, 1999.
(Respect Records)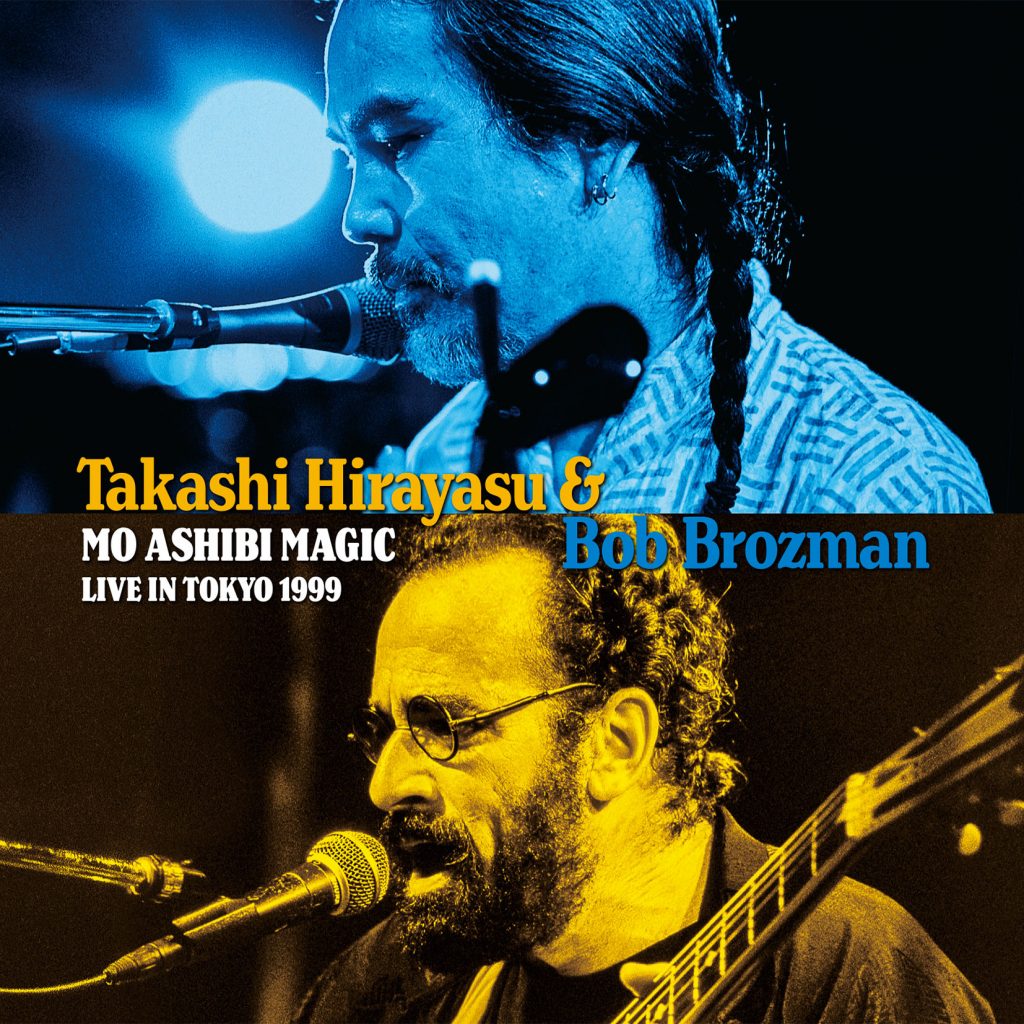 Album information
http://www.respect-record.co.jp/discs/res333.html
Takashi Hirayasu & Bob Brozman at WOMEX, 2001. The navigator of the video is a young Peter Barakan. Although dance tunes with strong rhythms are very popular at WOMEX these days, in this day and age, works with an ambient atmosphere like this are also likely to gain support.