In early July, I received an invitation from my friend Py (Bangkok Music City)k to participate in the ASEAN Music Showcase Festival 2022.
The ASEAN Music Showcase Festival began as an online event in September 2020 at the Corona Disaster, and the idea of connecting music professionals from ASEAN countries for a showcase event together seemed like a great one.
From the beginning, I had hoped that the event would be held offline, but it turned out to be faster than expected.
This first offline event will be held on September 10-11, 2022 in Singapore.
In the latter half of the 2010s, showcase festivals appeared one after another in Asian cities, such as "Zandari Festa" in Seoul, Korea, "LUCfest" in Tainan, Taiwan, "Bangkok Music City" in Bangkok, Thailand, and "Trans Asia Music Meeting" in Okinawa. The "Trans Asia Music Meeting" in Okinawa, Japan, and many others.
In the age of subscriptions, digital marketing has become the mainstream, and this event has established itself as a new platform to connect musicians and people in a real setting.
In late February 2020, the "Trans Asia Music Meeting 2020" was held in Okinawa, Japan, and was driven by the Covid-19. Several delegates cancelled their participation at the last minute. Others had to reroute their flights because they could no longer travel through the country due to quarantine. We saw one border after another being closed as return flights were cancelled one after another. The Covid-19 that was approaching before our eyes was truly something out of the ordinary.
At this time, in consultation with Py and Nicolas, the director of Sukiyaki Meets The World, we decided to make a joint statement as an event on short notice.
In the statement, the importance of music and other soft power, as well as the importance of directness, was emphasized, indicating that the event would contribute to the development of music culture based on a music network originating from Asia.
When Covid-19 began its onslaught, music and other forms of entertainment were the first to be called unnecessary and hasty in Japan, and directness was also denied. (I don't know about other countries…) The statement was consequently made to resist it ahead of time.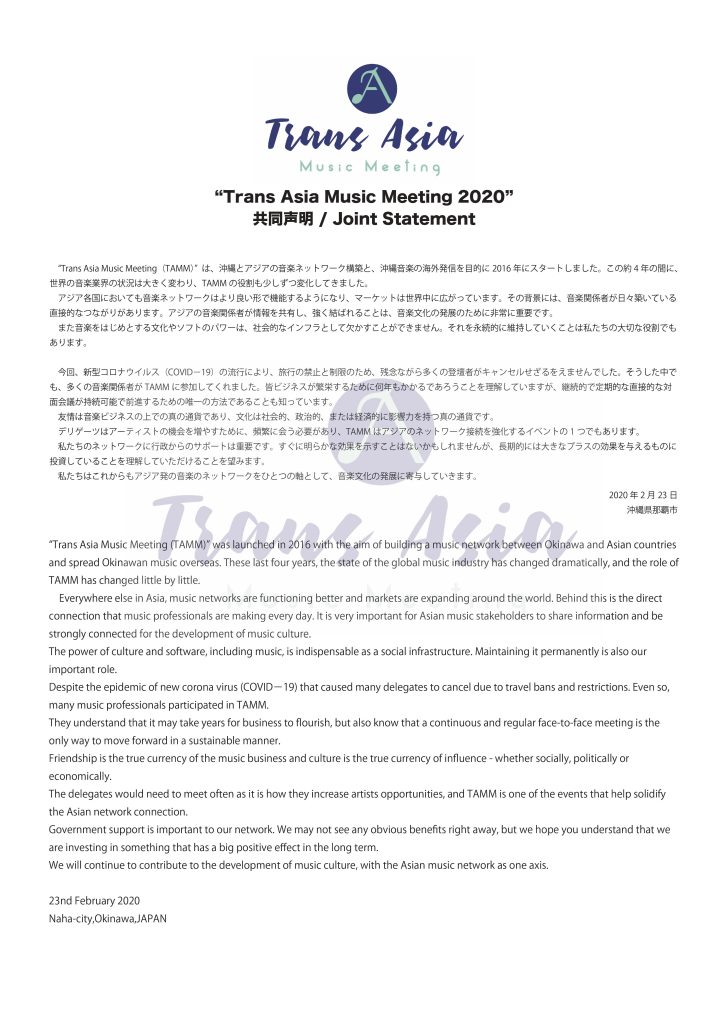 The Real International Showcase Festival in Asia has been held almost exclusively in Asia ever since.
Covid-19 Disaster has greatly increased the opportunities for remote communication. It is very significant that we now have such a new option. At the same time, it has made us realize once again the importance of directness.
Although Covid-19 has not yet ended, and the tragedy is still being repeated around the world, "ASEAN Music Showcase Festival 2022" will be a great opportunity to make up for the mutual absence of the past two and a half years, and to get the independent music scene in Asia moving again.
It is sure to be a major catalyst for the Asian independent music scene to get moving again.
Covid-19 disaster has also revealed this country's lagging and declining fortunes on many fronts. By participating in this event, I hope that we can take this opportunity to reassess where we stand today. More than anything, I would like to celebrate the reunion with friends after a long absence and the encounter with new music.
野田隆司 / Ryuji Noda(Trans Asia Music Meeting / Music Lane Festival Okinawa)
ASEAN Music Showcase Festival 2022
https://aseanmusicshowcasefestival.com/